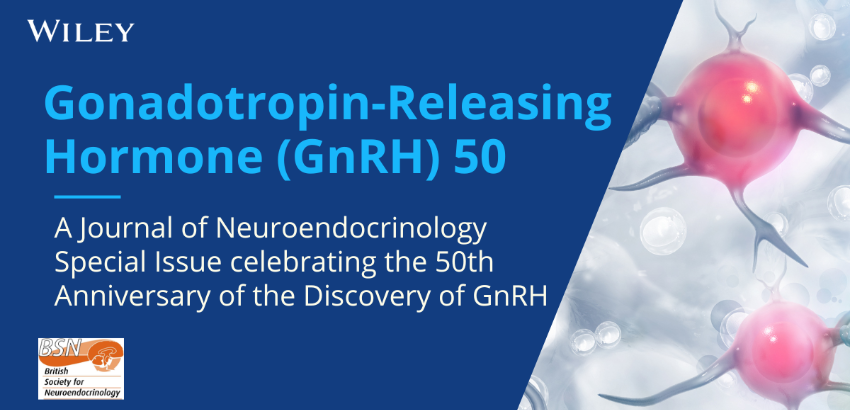 GnRH–Celebrating 50 years: New JNE Special Issue
We're delighted to announce the publication of GnRH 50 – A Special issue celebrating the 50th Anniversary of the Discovery of Gonadotropin-Releasing Hormone (GnRH) in the Journal of Neuroendocrinology.
The discovery of gonadotropin-releasing hormone (GnRH) has over the last 50 years changed the shape of neuroendocrinology and treatments for infertility and reproductive disorders. Journal of Neuroendocrinology is celebrating this milestone with a Special Issue focused on GnRH action in the brain and how this affects reproduction. The Special Issue features 17 state-of-the-art reviews and is guest edited by Dr Michael Lehman, supported by an editorial team.
All articles are free to read for two months and six articles are open access.
"The discovery of gonadotropin-releasing hormone changed the shape of neuroendocrinology and has led to new treatments emerged for infertility and a host of reproductive orders. In bringing together investigators across research interests and disciplines, the reviews in this special issue offer new ways to see this field of research and its unresolved questions. We hope it inspires remarkable scientific progress for the next 50 years!"

– Michael Lehman, Guest Editor
Topics in the Special Issue
GnRH development
GnRH neuron anatomy, electrophysiology, glial interaction, and modelling
GnRH roles in puberty, pulsatile and surge secretion, stress, seasonality and functions in non-mammals
GnRH clinical and translational research including genetics and mutations, fertility control and role in polycystic ovarian syndrome.
The issue also includes historical perspectives on GnRH research as well as viewpoints on the future of the field.
Read the Special Issue: https://onlinelibrary.wiley.com/toc/13652826/2022/34/5
Editorial team
Waljit Dhillo (Imperial College London, UK)
Bob Goodman (West Virginia University, USA)
Allan Herbison (Cambridge University, UK)
Victor Navarro (Harvard University, USA)
Richard Piet (Kent State University, USA)
Susan Wray (National Institutes of Health, USA)
Professional illustrations
Journal of Neuroendocrinology supported authors in the creation of professionally illustrated figures that are available to download and use with credit from the JNE website.
Browse the GnRH50 Special Issue illustrations: https://onlinelibrary.wiley.com/journal/13652826/homepage/resource-gallery