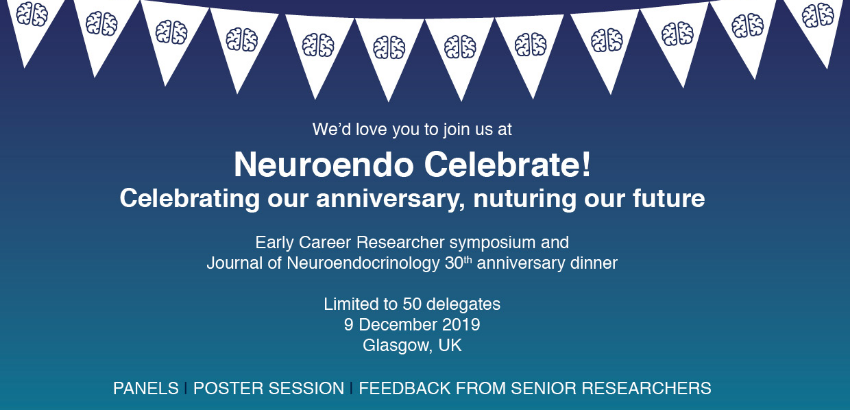 EVENT: Neuroendo Celebrate!
Celebrating our anniversary, nurturing our future
Join us on 9 December 2019 in Glasgow, UK, to celebrate 30 years of the Journal of Neuroendocrinology (JNE) and its potential future contributors with an Early Career Researcher (ECR) symposium and anniversary dinner.
"This Journal is precious; owned by our community, run by our community for our community. May it be so for the next thirty years!"
- Gareth Leng, JNE Editor-in-Chief, 1996-2003
ECR symposium
Are you starting out in your neuroendocrinology career? Do you have a fantastic project you're working on? Would you like feedback and input from some of the leaders in the field? Come along to our ECR symposium.
With three themed panel sessions and a lunchtime poster session, this ECR symposium will see 50 ECR delegates and eminent neuroendocrinologists meet for a day of discussion, learning and celebration. To mark 30 years of the JNE, the day aims to foster the next generation of neuroendocrine researchers and future journal contributors.
Delegates will hear from ECRs and leaders in the field about cutting-edge research in three areas: biological timing, energy homeostasis, neuroendocrinology in health and disease.
Where: Orangebox Gallery, The Lighthouse, 11 Mitchell Lane, Glasgow, G1 3NU
When: 10.30-17.30, 9 December 2019
Registration: Early bird, £50 until 2 September 2019. Register via MySociety (you must be a BSN member to register).
Poster Prizes
Prizes of £30 each will be awarded for the best poster include the ECR prize, as voted by ECR delegates, and the JNE prize, as voted by attending previous and current Editors-in-Chief.
Programme
Time
Session
10.30
Registration, tea and coffee
11.00

Session: Energy homeostasis

Plenary: Kate Ellacott, University of Exeter, UK
ECR Talk: Pablo Martinez de Morentin, University of Aberdeen, UK
ECR Talk: Alice Adrianensens, University of Cambridge, UK
ECR Talk: To be selected from abstracts

12.30
Lunch and posters
14.00

Session: Biological Timing

Plenary: Fran Ebling, University of Nottingham, UK
ECR Talk: Ashleigh Wilcox, University of Bristol, UK
ECR Talk: Vincent van der Vinne, University of Oxford, UK
ECR Talk: To be selected from abstracts

15.30
Tea and coffee
16.00

Session: Neuroendocrinology in Health and Disease

Plenary: Dave Grattan, University of Otago, New Zealand
ECR Talk: Chioma Izzi-Engbeaya, Imperial College London, UK
ECR Talk: TBC
ECR Talk: To be selected from abstracts

17.30
Closing remarks and poster prize giving
Infographic programme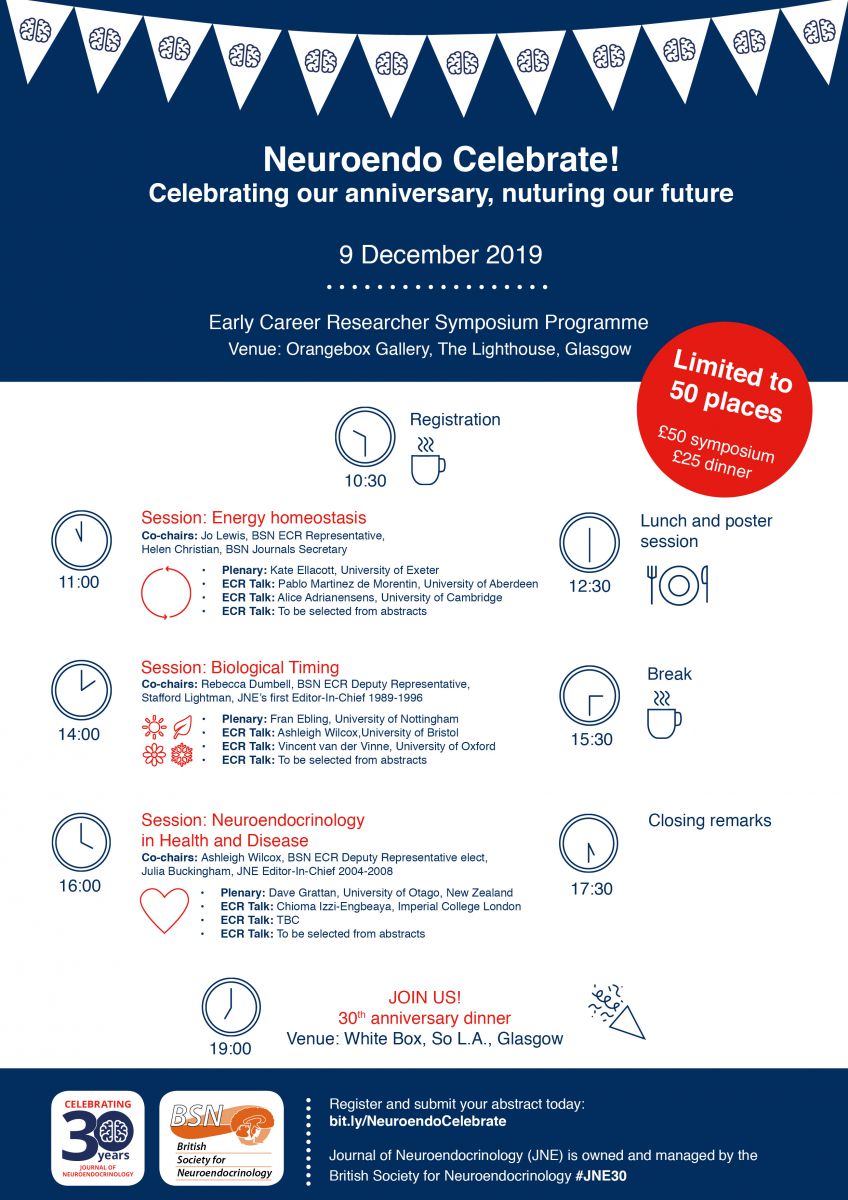 JNE 30th anniversary dinner
"Over the last 30 years, Journal of Neuroendocrinology has consistently been the best place to publish cutting edge neuroendocrine research"
- Julian Mercer, current Editor-in-Chief, and Perry Barratt, current Deputy Editor-in-Chief
Celebrate 30 years of JNE with past and present Editors-in-Chief at an exclusive dinner at the White Box in Glasgow. Guests will have the opportunity to meet with friendly and supportive scientists who have helped shape the field of neuroendocrinology over the last 30 years.
Where: The White Box, So L.A., 43 Mitchell Street, Glasgow, G1 3LA
When: 7pm drinks reception, 7.30pm dinner, 9 December 2019
Registration: £25. Register via MySociety (you must be a BSN member to register).
Registration
***Register for the ECR symposium and dinner via MySociety today***
ECR symposium
Early bird, £50 – deadline 2 September 2019
Normal registration, £80
Non-members will be asked to become BSN members in order to attend the event
JNE 30th anniversary dinner
£25 per person
Non-members will be asked to become BSN members in order to attend the dinner
BSN membership
Students, £10
Postdoctoral, £30
Find out more about how to become a BSN member
Abstract submission
Abstracts for posters and speakers closes 2 September 2019. ECRs will hear by 25 September 2019 on whether their submission has been successful for poster presentation and if they have been selected to speak during one of the panel sessions.
Download the abstract template
Submit your 250 word abstract via MySociety
Travel and accommodation
Accommodation deal
Motel One Glasgow
78-82 Oswald Street
Glasgow
G1 4PL
Twin room without breakfast, £69
Twin room with breakfast, £78
Book via www.motel-one.com or email res-glasgow@motel-one.com quoting "BSN 2019".
Travel grant
ECRs can apply for a travel bursary to attend Neuroendo Celebrate! Postgraduate students and post-doctoral research fellows within 10 years of gaining their PhD who have also been BSN members for at least 6 months are eligible to apply.