Write a BSN Neuroendocrine Briefing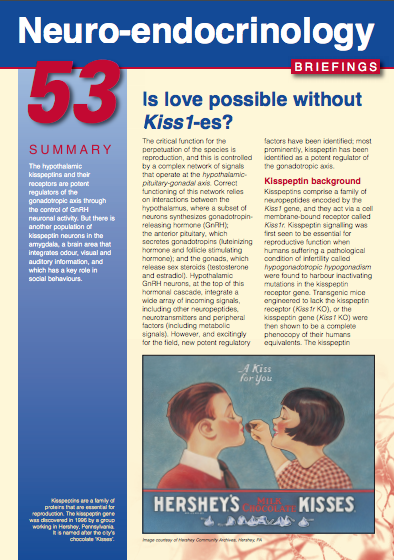 Do you love talking about neuroendocrinology? Are you keen to inspire that same enthusiasm in students and interested members of the public?
We're looking for talented, communications-minded BSN members to update previously published Neuroendocrine Briefings or write new ones. An honorarium of £200 will be awarded for accepted briefings.
What are Neuroendocrine Briefings?
BSN Neuroendocrine Briefings are two page articles aimed at:
Encouraging science and medical undergraduates into postgraduate study in neuroendocrinology.
Generating interest, awareness and topicality in the wider research community, amongst research support providers and interested members of the public. Neuroendocrine Briefings are available open-access via the BSN website.
Style
Briefings should:
Be lively in style but not too lightweight in scientific content and try to appeal to both non-specialist and specialist readers.
Emphasise the medical problems or other implications of human interest, show how research is helping, and incorporate recent key experimental findings.
Format
Punchy title.
Summary text of 50-70 words.
"Tabloid" style subheadings.
Attention grabbing introductory sentence.
750-850 words of main text.
A colour figure or picture which looks good rather than contains a lot of information (for 2 figures reduce text to 700-750 words).
Short caption for your figure if necessary.
No references in the text.
A picture (portrait) of you to be added into the box for information about the author.
Peer review
Any submission will be subject to reiterative peer review, to ensure accuracy and the standard of the briefings is maintained. Honorarium BSN will award £200 to those who contribute to the Neuroendocrine Briefings by updating an existing Neuroendocrine Briefing or writing a new Neuroendocrine Briefing. This will be paid on acceptance of the final version.
How to express an interest in writing a BSN Neuroendocrine Briefing
Please email P.J.Brunton@ed.ac.uk with a topic you'd like to cover either by updating an existing Neuroendocrine Briefing or by writing a new one. Include a short CV. Although open to all BSN members we'd like to encourage PhD students and early career researchers in particular.