The Heart of the Brain
One of our founding members, Gareth Leng, has just published a book entitled "The Heart of the Brain: The Hypothalamus and Its Hormones".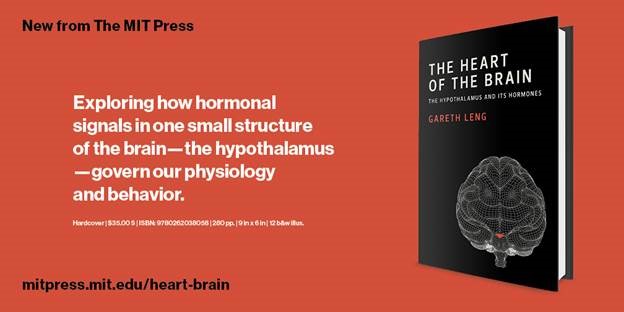 "As neuroendocrinology blossomed from a boutique field of neuroscience into the prime opportunity to relate molecular biology to hormones and behavior, Leng led by virtue of his productivity and his quantitative thinking. His book makes neuroscience accessible, as his writing blends charm and expertise. He presents complex ideas in a clear and interesting manner."—Donald Pfaff, Professor of Neurobiology and Behavior, The Rockefeller University; author of How the Vertebrate Brain Regulates Behavior
Available in the UK for £27 from Amazon (August 2018).
Hardcover | $35.00 S | ISBN: 9780262038058 | 280 pp. | 9 in x 6 in | 12 b&w illus. | July 2018
Learn more at https://mitpress.mit.edu/heart-brain